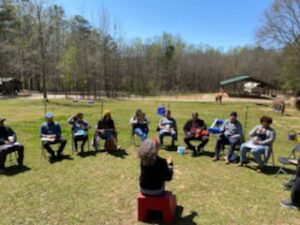 The Counseling and Counselor Education Services of Georgia, LLC (CCESG) Training Program is committed to offering educational programs of the highest quality. In the unlikely event you have a complaint about the delivery or content or a workshop, we are committed to evaluating and attempting to resolve your concern quickly and to the best of our ability. Constructive feedback given at the end of workshop evaluations is welcome and may result in changes made to the program.  You can 
read our Complaint Resolution Policy
 here.
Incorporating Equines and the Equine Environment in Psychotherapy Practice
Present the ethical and clinical challenges associated with non-standardized terms when equines are incorporated into human health care and clarify current state of standardizing terminology in mental health treatment.
Discuss the reasons for and benefits of incorporating equine interactions and the environment in psychotherapy.
Examine ethical and clinical competency considerations in accordance with the ACA's Animal-Assisted Therapy in Professional Counseling in the context of equine interactions in therapy.
During this training, participants will learn about the central aspects of the therapeutic environment providing psychotherapy at a farm setting where interactions with equines are included. Participants will learn the reasons for and benefits of incorporating equines and the environment in psychotherapy. Finally, participants will examine the "Animal Assisted Therapy In Therapy Competencies" published by the American Counseling Association and ethical considerations in the context of including equine interactions in therapy at a non traditional therapeutic setting.
5 CORE, 1 Ethics in-person (synchronous) or live webinar (synchronous) contact hours of continuing education have been approved by the Licensed Professional Counselors Association of Georgia (LPCA CE Approval #2022-08-23-145MLW.
$120 Fee includes training, handouts, and CE Certificate.
Registration must be received prior to training date.
9:00-4:15 Eastern (Check-in via Zoom opens at 8:45).
For more information e-mail ccesga@gmail.com or call 256-975-7865